Welcome to Mahima Consultancy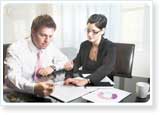 STRONG INTERLINK BETWEEN INDUSTRY AND PEOPLE
If you are in search for a reliable, competent and above all a truly professional management consultant, we, Mahima Consultancy, are the right destination. The true development of any organization depends upon the efficiency of its employees and development of management skills from time to time. In India, the situation becomes even more crucial because of the availability of ample business opportunities. It becomes difficult to cull the best out of such a vast pool at times. We stand for reliability and trust in business because of the immense experience gathered by our team members.
At the top of all, the dedication that our team members and HR Stalwarts from Nagpr, Mr. Ashit Sinha (Principal Advisor) and Ms. Anita Vijayakar (Advisor) have shown to the specific task of our clients has led us to the zenith of success.
As a matter of fact, it has been our chief concern to keep up the trend with more effective results. When we synergize your management problems with our management solutions, both of us are fully benefited in the arena of all management activities.
Thanks and best regards,
Mini Mohan
Proprietor
Quick Contact
Mahima Consultancy
Address : Plot No. 33, Kalpataru Colony, Kamptee Cant. Dist., Nagpur, Maharashtra, India
Mobile No. : 91-9823141020
Phone No. : 91-7109-282345
Fax : 91-7109-9823141020
E-mail ID : mahimaconsultancy@hotmail.com